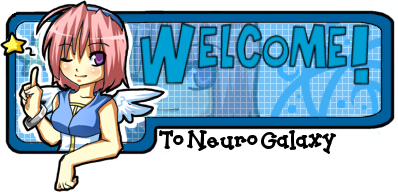 Welcome to Angel's NeuroGalaxy Archive!

NeuroGalaxy, or NG, is a lost and beloved pet site of the early internet era created in October 2004 and opening on December 26, 2004. The sister site of Subeta (and PokePlushies), NeuroGalaxy consisted of a small but tightly knit community and functioned as most pet sites of the era did. It was shut down in 2014 as its parent company stopped supporting it.

NG is largely lost media nowadays. The site's original appearance remains on Wayback Machine, but much of its content is gone, present in only the memories of its former players. As of June 30, 2022, its original URL is host to a scam website.

I believe in archiving everything possible about NG, the site where I spent a large majority of my childhood and the place that really formed me as a preteen.
This site is a time capsule into a bygone era of a long dead game, waiting to be reopened.

RIP NeuroGalaxy, you will be missed.


If you're a user unfamiliar with NG, stick around a while and dive into the fading knowledge of this relic of the early 00s-10s! NG is a rabbithole waiting to have someone fall into, and I hope you come to love and appreciate it as much as I do.
If you are a former NG player who can provide your experience with the site, images, etc., please let me know! My socials are on my home page.

Randomizer and chatbox text on this site are different for each page! Taken from real, saved randomizers and chatbox convos from Wayback. Chatlogs are read from bottom to top. Mercs in the Mercenary sidebar are a mix of my own as well as Mercenary Contest winners.



Explore the Archive
Explore - Updates

Other NG Resource Sites
NG Tag on dA - NG Wiki - NG Twitter - NG Facebook - NG on Wayback - Neurogalaxy1 - NG Image Archive

You may be wondering though... If I'm a former NG player, who was I?

Link back to the NeuroGalaxy Archive!


[
Repent
] D8
[
pupzee
] no attention 4 u
[
babystar
] *walks away*
[
Fennec_Fox
] XD
[
Repent
] Yes! GIVE ME ATTENTION! MOAR! MOAAARRR!
[
DrSharky
] i could do that i just don't want to
[
Repent
] I was going to save up again after I got to 110 HP, but since I can no longer 1HKO the MeP I need to spend some more on my Strength and Defense before I can start saving.
[
Fennec_Fox
] Repent you're crazy oAo
[
pupzee
] omg repent y u gotta make me feel bad
[
warriorgirl4995
] omg repent.
[
Repent
] It was a picture of when I had 500k EXP points saved up.
[
Jessica8
] ,')
Please log in before using the chatbox.